Today, everyone must be familiar with the virtual and hybrid event formats as live physical events have stopped completely. With the sudden emergence of the global pandemic, restrictions were imposed on physical gatherings and events. Nations went under lockdown to ensure public health safety. In no time, virtual events became part of the new normal to keep the business going. Today, all large, as well as small-scale organizations around the world, leveraged virtual and hybrid event formats to keep the business running.
With the vaccination drive going in full swing, it has been anticipated the nation will soon win the fight against the pandemic. But, even after that, hosting large physical gatherings seems nearly impossible for some time. Here, hybrid event format has a major role to play.
To deal with this, event organizers and planners have come up with a solution to go hybrid. This event format enables organizers to host a small segment of in-person attendees as well as a larger segment of virtual attendees altogether. Thus resulting in enhancing event reach and boosting business revenues. Hybrid events ensure both health safety as well as help in extending event reach.
If stats are to be believed, hybrid events are the future of the event industry. Many big organizations have been hosting hybrid events for a long time. Whereas, those who are new to the event format, have completely leveraged the same with the change in times.
In this blog, we have uncovered the top 10 rules to host a successful hybrid event and achieve maximum out of it. So, let's get started!
What are the key benefits of hosting hybrid events & why you should host one?
Hybrid events are a perfect alternative if you are planning to extend your event reach and tap global attendees. A hybrid event format comprises two sets of attendees, i.e in-person as well as virtual ones. A small segment of attendees attends the event by visiting onsite event locations. Whereas a large percentage of attendees tune in from their remote locations via any device to access the event.
Extended event reach, better accessibility, attendance, reduction in carbon footprints, substantial ROI, etc. are some of the major benefits of hybrid events. As we are still amid the halt of the pandemic and the world has not yet recovered from it, hosting hybrid events is the viable solution. It combines both in-person interactions as well as the benefits of virtual event formats.
As per the recent survey, 72% percent of organizers are willing to take their events hybrid in the coming future.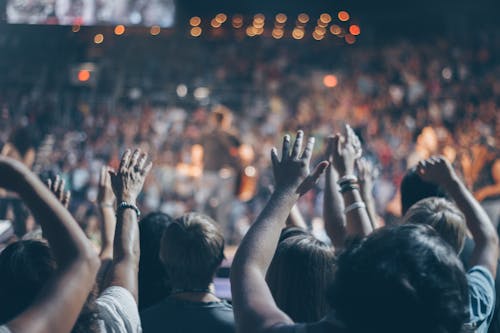 Top 10 rules to ensure a successful hybrid event
We have listed a few rules below that will help you to host successful hybrid events effortlessly.
Brainstorm to make an effective plan and strategy
The thumb rule to ensure any successful event be it physical, virtual, or hybrid, is creating effective planning and strategy for the event. Firstly, gain an understanding of your audience before you start planning anything. Gather as much information as you can about the likes, dislikes, and preferences of your audience. Once you are done with it, think of some brilliant hybrid event ideas for your event to boost engagements and get the maximum out of it.
Keep the following questions in mind while planning your hybrid event to gain achieve optimal results:
What do you want to achieve out of your hybrid event?
How will you make your attendees aware of the hybrid event format?
What are the needs of your target attendees?
Which hybrid event platform are you planning to opt to host an event?
What are the likes and dislikes of your potential attendees?
Where to market your upcoming hybrid event?
What is your hybrid event budget?
Will sessions be, Live or recorded?
What engagement networking opportunities would you like to offer during the hybrid event? And so on.
Determine your hybrid event goals and objectives
Identifying your event goals and objectives is crucial to ensure a successful hybrid event. Set your hybrid event goals before you start planning anything. Try to keep your event objectives realistic. Whether you are hosting an event to extend event reach or generate more business revenues the objective of hosting a hybrid event should be clear in the mind of the organizer.
Select the right on-site as well as a virtual venue
When you have planned to go hybrid with your event, selecting the right venue is a must. With hybrid events, you need to select an on-site event venue with a small capacity and strong internet connectivity. As the hybrid event has a virtual component attached, the in-person event venue must have strong internet connectivity as a large segment of virtual attendees will attend the event live virtually. A venue with networking issues will result in the fall of the event. Apart from it, selecting the right virtual hybrid event platform is a must to host a successful hybrid event. Go with a platform that enables you to host an event without any audience cap and offers a wide range of the most engaging and networking features.
Make your attendees aware of the event format
Make it a point to introduce your attendees to the hybrid event format beforehand. Not all attendees are tech-savvy. Share an event guide with your virtual attendees over email. It will help them to move throughout the event effortlessly and navigate the most awaited sessions and various aspects of the event. Thus, resulting in delivering seamless event experiences.
Do a dry run
As hybrid events involve a virtual component, make sure to do a test run beforehand. It will help in ensuring a smooth event. If any issues arise at the time of the test run, you will be still left with the time to fix them.
Offer real-time professional assistance
If you want to enrich event experiences for your virtual attendees, offer them professional assistance during the hybrid event. It will help in ensuring a smooth attendee journey during the event.
Promote, promote & promote
Utilize the power of social channels and email marketing to promote your upcoming hybrid event. If you will not promote your hybrid event the right way, you are not likely to reach your potential target audience that will adversely affect your event success. Promotions are a must to make your attendees aware of your upcoming event.
Allow attendees to network during hybrid events
Offer ample opportunities for networking during your event. Allow attendees to have free-flowing communications with other attendees, speakers, hosts, exhibitors, etc. in real-time just like physical events.
Encourage attendees to take part in engagement activities
Offer various options for engagement during the hybrid events. Motivate your attendees to participate in the same and take exciting and memorable event memories home. Introduce virtual games, live polls, Q&A sessions, photo booths, social walls, and more in your hybrid events to boost engagements.
Never forget to send a follow-up survey
The most important rule that one must never skip is sending a follow-up survey to event attendees. It will help event organizers to get clarity on what attendees enjoyed at the event and what does not hold their interest at all. It will help in identifying the flaws to work upon for future events.
Final Word
If you are new to the hybrid world and thinking of how to host a successful hybrid event, we have listed the top 10 key rules to host a successful hybrid event in the blog mentioned above. Hope it will help you out to host a successful hybrid event that delivers optimal results.